By Geoffrey Gray
May 17, 2018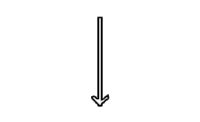 After speaking with her doctors, grooms and caretakers, we wanted to share this timely update with you regarding the health of The People's Horse. We're pleased to report our foal is now back her stall at Taylor Made Farm and recovering well after undergoing emergency surgery late Tuesday afternoon to remove her right eye after an injury earlier this week.
"She's really doing great, she's her spunky old self," Helen Wells, the foaling expert, told us from our foal's stall just an hour ago. "I'm petting her now and she's nuzzling up on me. I've worked with young horses that have lost eyes before and they were just terrified. That's not the case here. She's really impressing me, actually."
Wells knows our foal perhaps better than any. She was present on the night of our foal's birth, and helped her take her first steps in front of our live cam.

"She's a tough cookie," Wells said of The People's Horse. "I think she can muscle through this, and I think she can show us something wondrous." As an unfortunate as the accident was, Wells also believes her racing career is not in jeopardy. "She'll have to work a little harder, but I don't think this counts her out. Not at all."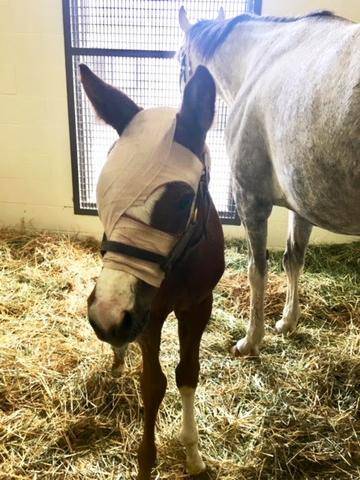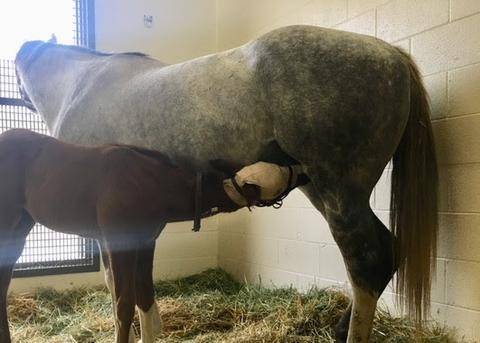 Since birth, our foal has shown a fighting spirit, and only hours after surgery, she seemed to return to her normal behavior. "She started nursing immediately,," Dr. Claire Latimer, her surgeon at Rood & Riddle, told us. (For Latimer's full report, listen to our conversation with her here.) Late yesterday, the foal was released from the clinic at Rood & Riddle, and transported along with her mother Colerful Bride back to their stall at Bonna Terra A at Taylor Made Farm, where they spent the night.
"She's acting normal," Bob Smith, who manages Bonna Terra A, told us this morning. "She's nursing, eating, getting into her feed bucket."
Currently, the foal is being given antibiotic medicine delivered through an intravenous drip to ward away any infections to the surgical area, Smith said, and her catheter will be removed in a few days. The bandages to her eye have been removed, he added, and once the grooms feel as though she's been acclimated, they will move her and Colerful to a small pasture near the barn. Hopefully, she will be able to return to graze outdoors this weekend.

We'll be updating you regularly on her condition and will resume our webcam after she gets acclimated and back to her normal routine. We thank you all for your support and inspiring words shared in the nearly two hundred emails we've received and the countless messages you all have shared on social media.
Here's just a few.

"OUR FOAL IS STRONG AND SOUND AND WILL ADAPT. WE CANNOT GIVE UP ON HER NOW. OR EVER."

— Mary Noonan, of Connecticut
"She won't know she only has one eye and will adapt like those before her. In my humble opinion, it makes her that much more special."

        — Leigh Cunningham, of California
"We should not feel sorry for her or us in front of her. With time, she will not know she is different!"
t       — Mary McLeod, of North Carolina

We've been humbled by the remarkable outpouring of support and invite you to continue to share your thoughts with us. Horses, we've learned, are inspired by those around them. By continuing to show our foal love, the more we can hope to inspire her to navigate her new world with guts and determination. It's is a truly remarkable moment for our project and we thank you for investing so much of yourselves in the future of The People's Horse.