By TPH Editors
February 15, 2019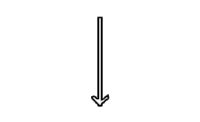 Greetings People's Horse Members,
Evaluations are done on a monthly basis by our farm managers. They do this to make sure each horse is growing and progressing in the manner that it should. Below I am attaching the exact notes and grades written by our farm managers. We grade on an A-D scale. I will be attaching a diagram of CB18 at the bottom where I have label some words used in the evaluation for those who may not be familiar with horse anatomy.
Height to Date: 56 inches
Weight to Date: 674 pounds
December /January Evaluation:
Average Sized, Small, Strong, Well Balanced, Average Head, Average neck, good laid back shoulder, Average wither, Average heart girth, Short back, Strong hip, Straight hind leg, Strong Forearm, Short Cannons, Good pastern angles, Strong Stifle, Average gaskin, Nice square hip going away from you, Toes out slightly right front, Toes out slightly left front, average chest, Average feet, horse has a calm and classy demeanor, I grade this horse a B/B+
Graded by Frank Taylor (Vice President of Boarding Operations)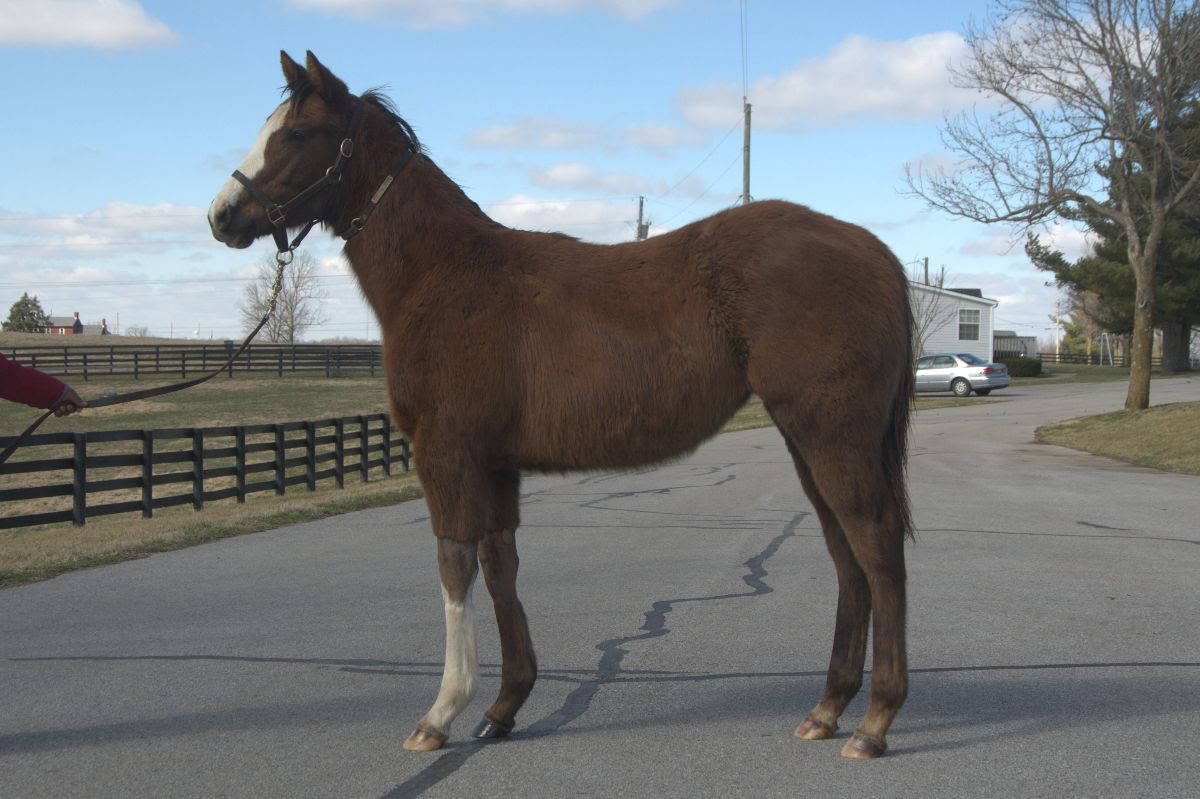 Q & A from TM Management
How is she doing?
She is doing great! She is such a social and special horse. She is part of our 2019 California Chrome Experience where she is paraded for guests (along with two other Yearlings) so they can see Chrome Yearling's up-close and personal. CB18 spends a majority of her days growing, grazing, and hanging out in the field with her friends. The eye incident has not hindered this filly one bit! The only change we have had to make with her compared to other horses is grooms must be very aware when they are on her blind side. This means that they will be talking to her while that side so that she does not get spooked. Otherwise, she is living life just like every other yearling we have here at Taylor Made.

Why are her front knees shaved?
We have been putting green jelly and DMSO cooling agents on them to help prevent and ease any swelling caused by her growth plates moving in her knees as she grows up. When this happens it is called Epiphysitis. This is extremely common in a horse her age. See attached article below to give you a bit more insight on exactly what Epiphysitis is and what causes it.
Epiphysitis? Physitis? What are you talking about?
Today we will discuss two interchangeable words for the same condition. Physitis (epiphysitis) is the swelling of the growth plate (physis) in young horses. This condition is seen in the fetlocks (ankles) in young foals and in the knees when these horses advance towards their yearling year. In young horses, the growth plates in the fetlocks close first. This typically takes place between 4 and 8 months depending on how the foal develops. The period of most rapid growth affecting the fetlock is complete around 8 months of age. Physitis is then seen in the knees as they do not radiologically close until the horse is between 17 and 24 months.
What causes Physitis?
Physitis is primarily caused by excess strain on the physis. This is usually a result of rapid growth and/or weight gain.
Taylor Made Care
The Taylor Made team is very proactive in not letting this happen as we explained earlier in how we use the green jelly to prevent any acute case.
Treatment and Management of Epiphysitis
In December of their weanling year at Taylor Made, we begin monitoring all of our horses for signs of physitis in December of their yearling year. We clip the knees on each foal so as to have a more clear view of the knee. Many of our customers may notice that their yearlings have their knees clipped in this month's or next month's photos. Thick winter coats can often times inhibit our view of the knees. We also apply cooling green jelly to the knees every other day when the horses come in. The cooling and liniment properties of this topical treatment help to ward off and alleviate discomfort associated with the onset of physitis. We take great care to monitor the weight of our yearlings. This is especially important in the beginning of March when the fields of Kentucky turn from brown to a lush and appetizing green. In March and April we find that our yearlings hit a huge growth spurt and rapidly gain weight as a result of the lush spring pastures. At this time we will also begin to apply a Kentucky Clay Mud Poultice to the knees of horses that are experiencing the most rapid growth. This serves to provide additional cooling and protection for the knees and also reduces yearling's reaction to pestering flies that are beginning to bite. Taylor Made's team has perfected how to manage yearlings and their growth. CB18 is getting the same treatment as triple crown winner American Pharaoh or Roaring Lion received while being nurtured at TM. We believe in trying to grow a nice athletic and strong yearling while not overdoing it. Taylor Made has raised or sold over 100 G1 winners and are trying our best to raise even more!