By Flip Holsinger, People's Horse Photographer
October 31, 2018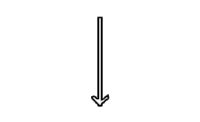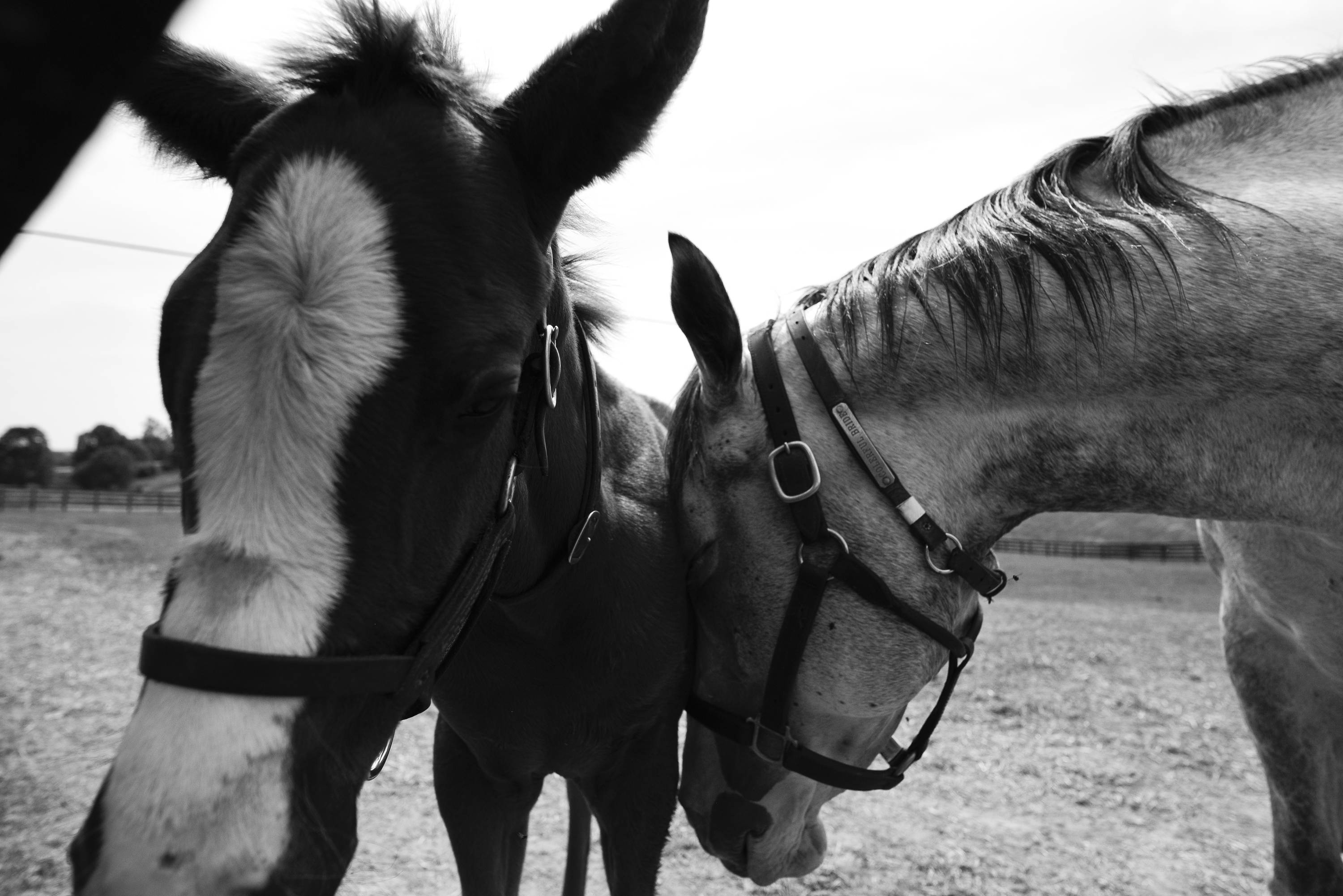 A few months before I made my first trip to Taylor Made Farm in Kentucky, I was in Haiti. I left totally broken. I had been living in Citi Soleil, the slums of Port Au Prince, the capital, and there had actually been a hit out on me. It was a nightmare. I had been living in a warlord's part of the slum, and sharing my home with a competing general of the streets. A power struggle was underway, and word got back to me that I was a target too.    
So I left, literally running for my life. Back in the States, I spent some time in Colorado, at a recovery program for folks who have dealt with high levels of trauma. I was there with a handful of retired soldiers, all special forces; as part of our recovery, we rode horses in the snow.      
It's incredible what a horse does to listen to your body. You're sitting on its back, and the horse feels every breath that you take. We were outside of Vail, Colorado, in January, in deep snow. The other guys would huddle in the lodge, and every night I went out with the horses. It was an amazing experience to be out there in the sub-zero, all bundled up and then to be with all these horses under the stars. They don't run from you. They are not corralled or anything. They are majestic creatures, and it was an amazing jumpstart for me, starting to heal.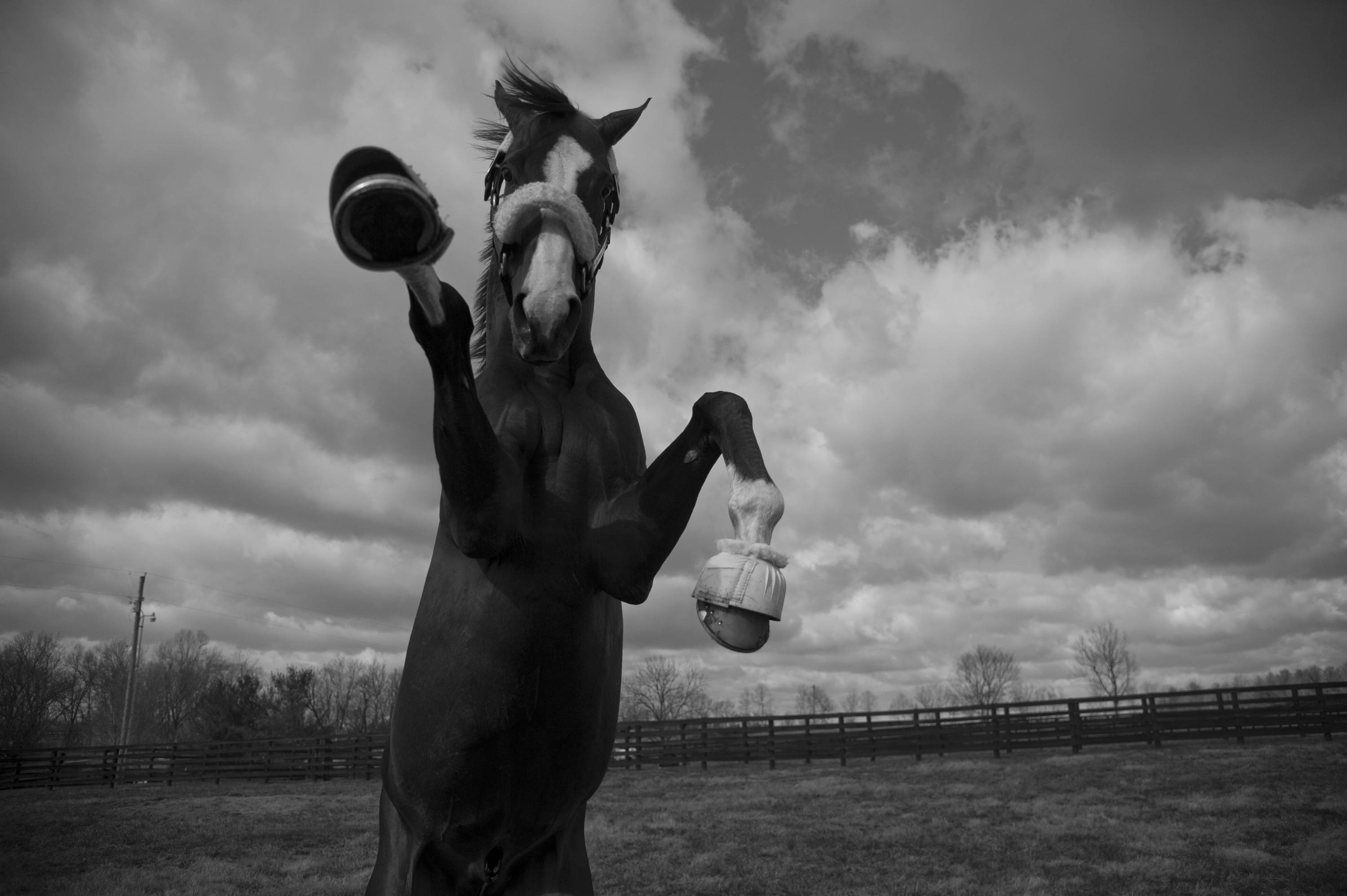 Then there I was—a few months later, arriving at the farm in Kentucky to first photograph California Chrome and Colerful Bride, parents of The People's Horse. I remember the first morning, and those first photographs of Chrome where he is up on his hind legs, like he's going to stomp my face. But he was just this big puppy dog. That morning, I walked everywhere in the mist and the grass. Part of photographing these horses and this project, for me, has been to extend my own healing.    
***  
When I began as a photographer, I shot film and there are extreme limitations to film. You lose the light and suddenly your photographs are poor. What I did early on was embrace the difficulty of low light photography. If I knew that there was going to be camera shake and blur, I owned it and tried to find a way to let you feel the emotion or the insecurity of it. With The People's Horse, I want to feel the horse breathing and running and the following and struggling. Strangely, when the horse had her accident and she lost her eye, it made me far more invested because of my own struggles and brushes with dying. It gets down inside you and it comes back and it's weird. You can't shake it. Seeing her hurt, I felt a connection. This raw approach that I take is me using a lot of my limitations because I want you to be there with me. I want to show you something.

"I SHOOT COLOR, BUT I THINK IN TERMS OF BLACK AND WHITE. PSYCHOLOGICALLY, IT REDUCES THE IMAGE TO CENTRAL THINGS. IT DRAWS YOU TO THE EYES."


We read color and color has its place, but the way that I see the world, I'm looking for these essences. I want a person to go with me to see what I think I am seeing, and black and white helps me to do that. Sometimes I like color, and there are some photographs of Chrome I made when I first encountered him of his legs, where it works especially well. There's a morning light on him, and you see all of his veins and the black hooves. For those, the color makes you want to reach out and touch the horse's hoof.      
When I think about The People's Horse, I think that there is a public expectation of what that horse is. She's a racehorse — hopefully a racehorse. And yet, the reality of a person is that a person is so much more than a thing that they do. We really want to be inside the hero's heart and mind. When I think about The People's Horse, what really interests me is what comes of her life. Hopefully she becomes a racehorse, and a champion, but whether she does or not, how cool would it be to be there through the whole process?    
For years. That's the thing I love about photojournalism: the part that no one can predict. You really never know what the story is going to be. But I've developed this confidence in life that any thing pursued brings delight, intimacy and craftsmanship. I know it can teach me everything about myself.